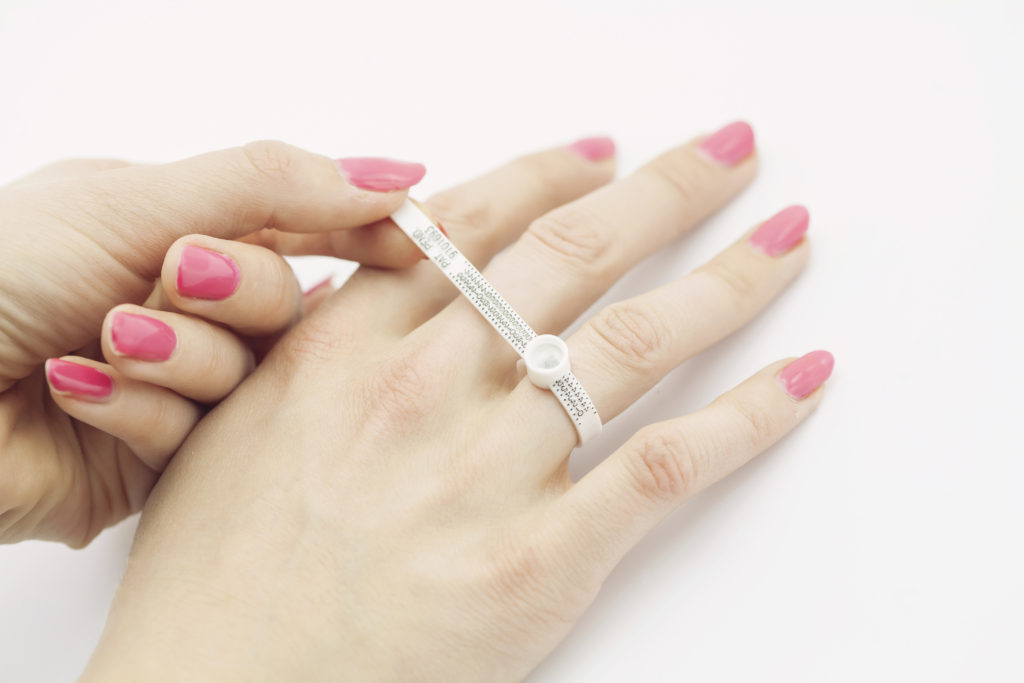 Ring size is a measurement that indicates to the inside circumference of a ring. Different countries use different graded systems for indicating ring size. Please find the table below to identify the international sizes.
Due to their nature, some rings cannot be re-sized. Therefore it is imperative to know the ring size. It is to make sure that the proposition/ special occasion goes as smoothly as possible or that you get your desired ring without any delays. This measurement will enable us to provide you with an estimated size and give us a good indication of what your finger size is.We strongly advise you to come to our showroom in Birmingham or visit a jeweller for an accurate finger measurement, because the plastic strap gauge sizer will only give you an estimated reading.
Make sure you write down the ring size and the date it was measured on because it is quite common for finger size to change if you lose weight, or if you are pregnant. All these factors have to be considered for an accurate finger size measurement. If you are unsure or have any questions, you can always call us on 0121 236 1907 or visit our showroom in Birmingham, and our experts will give you the right advice and measurement for your desired ring.
How do I use the finger sizer?
It works just like a belt. Simply push the end through the buckle to form a ring shape. Slip the sizer onto your finger. Adjust to give a comfortable fit, checking that it just slips back over the knuckle, but is tight enough not to fall off.
When the best fit is achieved, read off size indicated by the arrow! Please note that it doesn't give the accurate finger size and that the correct size depends on your chosen ring. For an accurate finger sizing, please contact us and we will help you get the finger sized carefully, even if you can't visit our showroom in Birmingham