Okay, okay, yes, we know the royal wedding is done and dusted.  But, we can't get it out of our minds!
It was just so romantic, wasn't it?
We love how a royal wedding gets us all talking about romance and brings the whole country out to celebrate something as wonderful as love.
Are we being too sentimental?
Okay,  let's get to it then. What about the engagement ring.
Since Prince Harry's proposal, 3 stone engagement rings have become a very popular choice. Harry designed the ring for Meghan himself choosing a high clarity diamond sourced from Botswana.   Either side of the central Botswana diamond there are two further diamonds which were taken from his mother, Princess Diana's brooch.
In terms of the styling, the 3 stone engagement ring is a very dramatic setting, with strong symbolism attached.
The 3 stones represent the couple's past, present, and future.
The ring is priceless. However, if we were to put a retail value on it, the value could be as high as 200,000 GBP.  The size & clarity of the diamonds chosen greatly increases their value.
If your jaw is dropping at that price then don't worry.
We have a two stunning 3 stone engagement rings we would like to introduce you to at Diamond Dealers Direct. (Available for a more reasonable price).
Diana Marvellous Princess Trilogy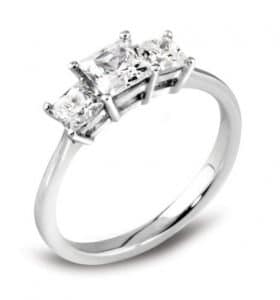 This engagement ring uses the princess cut, which is the second most popular cut of a diamond. It is your job to choose the central diamond, and our jewellers then find the perfect matches to create this stunning trilogy. The four clasps which flank each diamond are shaped in a straight line, giving this ring an art deco feel.
Our Hadrea engagement ring also uses the princess cut. In terms of the setting, it is very similar to the Diana Marvellous with a few important differences.  The band of the Hadrea is slightly thicker and the fourfold clasps are rounded instead of straight. The Hadrea offers a more romantic design.
Feeling inspired? Check out some related posts below or come into our shop in Birmingham's Jewellery Quarter and we will be happy to assist. 
Related Posts
How Much Should An Engagement Ring Cost?
How To Clean A Diamond Ring Safely