It can be easy to forget the little things when planning your proposal.  Of course, you need the perfect engagement ring, the perfect setting, and the right words. But what about the box you present the engagement ring in?
If you haven't thought that far ahead yet or gotten down into the nitty-gritty detail then check out these unique engagement ring boxes. You can really get creative and choose a box which reflects yours and your partner's personality.
Crystal Boxes For Spectacular Sparkle
(credit for image Etsy)
We think these crystal engagement ring boxes add a little bit of fun and a lot more sparkle, don't you think? Each box is handmade and is made from Geode, a stunning crystal found in volcanic rock.
Cam Boxes To Grab The Reaction
(credit for image mirror.com)
If you want a memory to share with the rest of the family, or simply to keep for you two to look back on, then check out these cam engagement ring boxes.  The box itself is very discreet, but hiding inside the lid is a tiny camera which will record the, YES, and perhaps some tears too.
Eco-Friendly Boxes For The Conscious Couple
(credit for image Etsy)
There is a huge range of eco-friendly engagement ring boxes, handmade from natural materials.  Bamboo is a great choice for the eco-conscious couple, very strong yet lightweight materials which can be shaped into a stunning engagement ring box.
Vintage Boxes For A Vintage Ring
(Credit for image How He Asked)
If you choose a vintage engagement ring, then why not go all out and match the box? You can likely pick up the perfect one in a vintage store or market to make it extra authentic. Or, you can opt for a Swarovski encrusted engagement ring box which she can keep on her bedside table after the proposal.
A Bit Of Fun Boxes For Those Who Like A Laugh (well, think that's all of us then?)
Finishing off the list with a giggle.  There are lots of fun engagement ring boxes too - proposals don't have to be all serious! In fact, a giggle is a great way to lift the mood and cut through the nerves you both might be feeling.
What about letting this wall-e robot do the proposing for you.
(credit for image modelmaker.net)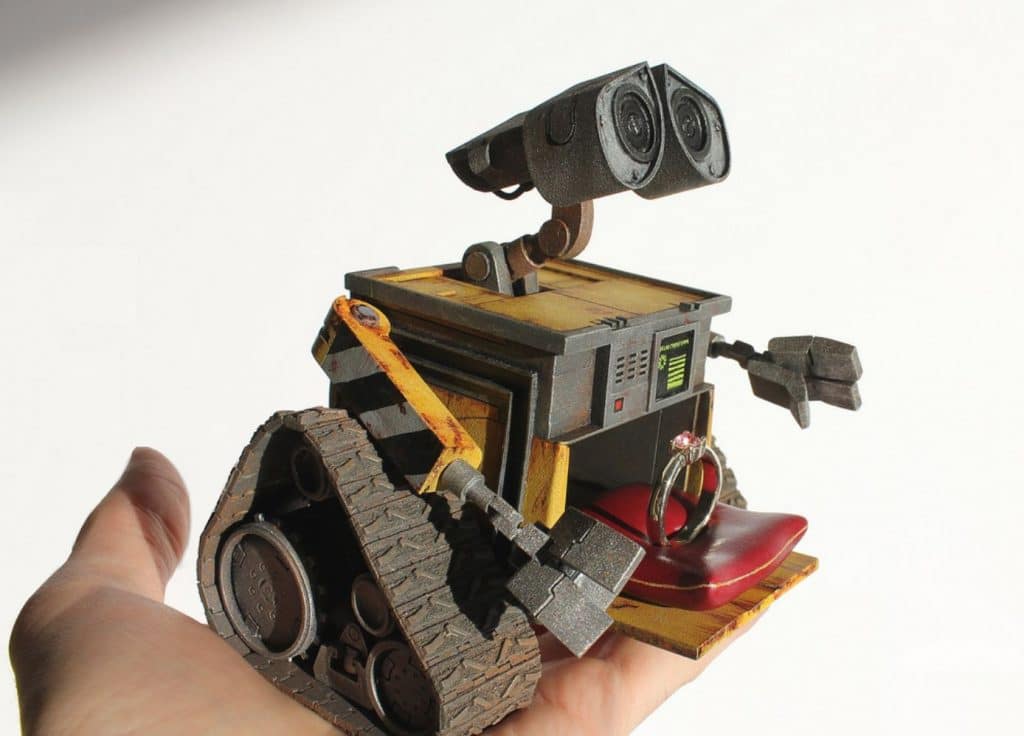 Or
Propose with a sorting hat engagement ring box like this one.
We hope we've given you some ideas. From the romantic to the laugh out loud, there is a huge range of engagement ring boxes available out there.
Related Posts
How To Clean A Diamond Ring Safely
How Much Should An Engagement Ring Cost?