We find that many couples get lost in the huge ocean of engagement ring choice. There are countless settings, stones, cuts, metals & designs to choose from.  We hope this post will help ground your ideas first so you can start sorting through what you want in an engagement ring.
To give you some engagement ring ideas, it can really help to understand which are the most popular engagement ring styles.   So, let's have a look at that now.
Most Popular Engagement Ring Styles
How do we know which rings are the most popular? Of course, we have an understanding based on our customers, but what about worldwide.  For this, we go to the annual wedding report released by Pinterest. They gather their data based on millions of pins and analyse the worldwide trends.  
Here are the top 3 engagement ring styles from 2018
Moissanite gems (+294%)
Moissanite is a man-made stone which looks very much like a diamond but doesn't cost as much.  This makes it possible to have a much larger stone even on a small budget. Moissanite gems have grown in popularity by 294%. For tight budgets, this could be an interesting solution.
Art deco (+173%)
We really enjoy art deco engagement ring design at Diamond Dealer Direct. The era was probably one of the most prominent in jewellery design history, from the 1920's to 1940's the art deco movement was the epitome of luxury & grandeur.
Oval stones (+125%)
Oval is a very interesting shape for an engagement ring and can often be very flattering on the finger.  An oval stone fits beautifully and elongates the finger. It works very well as a single stone with a simple band. Minimalist but striking.
Other Popular Ring Styles
3 Stone Engagement Ring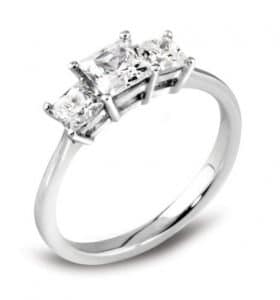 We have noticed the popularity of the 3 Stone Engagement Ring surge this year.  If you didn't know it yet this was the design that Harry chose for Meghan Markle. The central diamond stone on Meghan's ring is a diamond sourced from Botswana, and it is flanked by two smaller diamonds taken from Princess Diana's collection.
How To Choose An Engagement Ring
Look at her current rings to find her style
Research the most popular engagement ring style
Visit our store in Birmingham Jewellery Quarter where our experts will be happy to guide you further through the process as you design your bespoke engagement ring
Related Posts
3 Stone Engagement Rings (Just Like Meghan Markle's)
How Much Should An Engagement Ring Cost?